If you hopped here from
Betsy's blog
you are on the Paper Trail Blog Hop. We "dreamed" up some lovely papers and designs this month using the lovely CTMH Dreamin' paper theme. Dreamin' has wonderful warm tones of Goldrush, Bamboo, Chocolate, Honey, and Colonial White that are accented with crisp beginning to show signs of winter Pacifica. I looked through my photos but just couldn't find anything worthy of this gorgeous paper so turned to Jeanette Lynton's how-to card books
Wishes
and
Originals
. These cards were not only fast and easy but FUN!
This card has a flap that tucks under the bow in the front to hold it closed. I am loving doing "insides" lately so I also took photos of this card opened with the flap and without. I just love the "resist" technique with the lovely Treasure Life stamp set!
My second card is a birthday card for a dear friend. We celebrated her birthday with "just the girls" on Friday. I figured an October birthday just cries for a "fall" birthday card. This card is 6"X6" and uses CTMH's shimmer brads to add sparkle.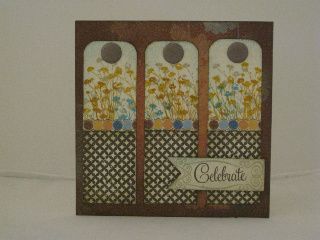 Are you craving more fall dreams? Grab a mug of hot cider and hop on over to
Connie's blog
.
Oh, BTW!!! Happy Halloween!